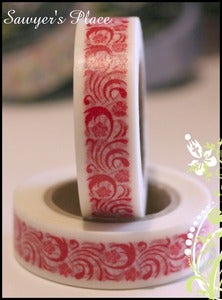 $

4.50
This exclusive tape design is from the Sawyer's Place line 'Bianca'.

Cute Japanese Washi Masking Tape. Perfect for embellishment, scrapbooking, collage, cute gift wrapping and packaging.

The additional pictures show some of the uses for Washi Tape but your options are limitless. The tape tears very easily and has a tacky adhesive that means you can position and reposition if you need to without leaving any adhesive residue behind.

Our rolls are 15 metres long compared with the 10 metres of many leading brands (such as MT Masking Tape).